Anthracnose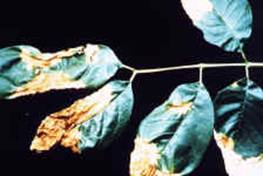 Anthracnose is a fungal disease that affects the foliage of deciduous trees in Wisconsin. These include: Ash, White Oak, Maple, Sycamore, and Walnut.
Symptoms vary depending on the species, but generally include irregular spots and dead areas following the veins of the leaves. Partially desiccated leaves have the appearance of being sun scorched. Severely affected leaves may curl and eventually fall off. In some of the species, anthracnose may cause twig dieback.
The fungus begins to affect the tree in late May and can continue until August. Cool and wet conditions increase the activity and spread of this disease.
Typically anthracnose is a cosmetic disease, rarely killing the tree.
Control Methods
Rake and destroy infected fallen leaves. If the disease persists in successive years, you may consider a fungicidal control.
Ranger Services offers a fungicide spray program. This product must be applied at least twice a year to be effective. This disease rarely requires control and applications must be made prior to infection.
Additional information:http://hort.uwex.edu/articles/anthracnose
Apple Scab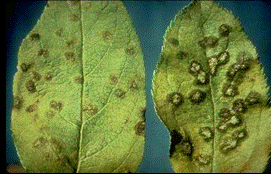 Apple Scab is a fungal disease that affects Crabapple, Hawthorn, Mountain Ash, Apple, and Pear trees. Some varieties of these trees are resistant or semi-resistant to the disease.
This fungus is most severe in years having wet springs and temperatures ranging from 60 to 70 degrees.
The fungus causes dark lesions that are first noticed on the upper leaf surface and can later proceed to the fruit. The lesions may merge and cover large portions of the leaf and fruit surface. This infection can lead to leaf yellowing and premature leaf drop. Heavy infections can lead to nearly a bare tree by mid July.
The fungus can persist through the growing season, but becomes less active as conditions become warmer and drier.
Control Methods
Disposal of infected fallen leaves can reduce reoccurring infection. If your tree has a serious history of apple scab and wet weather persists, the fungus can be controlled by timely fungicide applications prior to infection.
Ranger Services offers a fungicide spray program which is applied 2 or 3 times a season to control this fungus.
Additional information:http://hort.uwex.edu/articles/scab
Chlorosis
Chlorosis is the yellowing of foliage due to the loss or breakdown of chlorophyll. Chlorophyll is the pigment that makes leaves green allowing photosynthesis to occur.
Chlorotic Leaves appear yellow and often undersized with vein areas remaining green. Later, the leaf margins may brown and premature leaf drop may occur. It can lead to a slow decline and eventual death of a tree.
Generally, this condition is due to a lack of acidity (too high of a soil pH) in the soil, making some essential micronutrients for chlorophyll production unavailable.
In our area, the most common species affected are Oaks, Birch, and Maple.
Control Methods
Controlling chlorosis is a slow process because changing the soil acidity is usually a difficult and gradual progression. Mulching the area around the tree is a great start. In addition, adding granular sulfur monthly during the growing season can gradually reduce the soil pH.
In more severe cases, Ranger Services can provide a soil treatment or micronutrient trunk injections to help the tree.
Additional information: http://hort.uwex.edu/articles/chlorosis
Magnolia Scale
Magnolia scale is one of the largest of the soft-scale insects that attack trees by sucking plant fluids and sap.
Often, magnolia leaves turn black from a sooty mold that grows on the clear sticky liquid that the insects secrete. Wasps, bees, and ants are attracted to the plant to feed on the secretions.
Scale insects are most noticeable in late spring and summer when they appear as whitish lumps up to 1/2-inch long along the branches. In severe infestations, entire branches may be coated with scale and have a chalky appearance.
These insects appear in early spring as tiny dark specks. The specks are immature scale insects called crawlers (the only life stage at which the insects move). As it feeds, each crawler grows into a waxy, whitish lump. The mature insect lays eggs over the summer, which hatches into a new generation of crawlers in late August to September. The crawlers overwinter and begin to move again when temperatures warm in the spring.
Severe and repeated cases of scale can cause branches to die and reduce a tree's overall health. Before treating for any pest, though, it is important to verify what it is.
Control Methods:
Magnolia scale insects' waxy coating protects them from directly sprayed on products. Ranger Services can provide treatments during the crawler stage. These treatments take place in spring and August to September. This insect is difficult to control because the timing is so crucial.
Additional information:http://hort.uwex.edu/articles/magnolia-scale
Rhizosphaera Needle Blight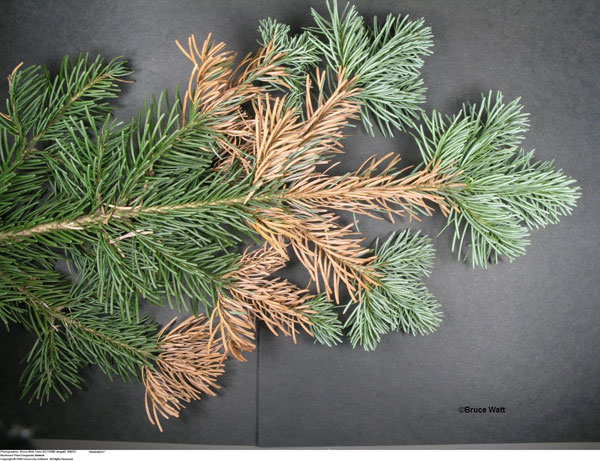 This fungal disease is most commonly found on spruce trees in our area, but can also be found on some varieties of pine and fir.
The first sign of Rhizosphaera is the loss of the innermost needles on the lower branches. The newest needles generally appear healthy. The infected needles may first turn yellow then eventually brown or gray. This infection is most severe during wet growing seasons.
When this disease is present, rows of small black dots can be seen on the shed needles surface with a magnifying lens. These are the fruiting bodies of the fungus.
Control Methods:
Remove and destroy infected needles and branches to reduce the source of inoculation. Allowing increased spacing between trees in new plantings promotes increased air flow for quicker needle drying, making less favorable conditions for the Rhizosphaera fungus.
Ranger Services provides a spray control for this disease. A minimum of two sprays in the spring is required for control.
Additional information:http://hort.uwex.edu/articles/rhizosphaera-needle-cast